Galvanized Steel Grating Industrial Stair Tread
Galvanized steel grating Industrial Stair Treads are designed and manufactured to comply with load requirements of ANSI/NAAMM MBG 531. Galvanized Stair Treads is one of the most widely used application of steel Bar Grating. It can be installed in the factories or in the parks for the permanent or temporary using. We can supply you all kinds of metal grate stair tread for stair treads, we can also supply a complete solution for your projects, just refer to the technology topic: project design of steel grating for stair treads and find some information. Then you can tell us your requirements, we will customize it for you.

Stair tread can be made of low carbon steel, aluminum steel and stainless steel gratings. The low carbon steel grating can be galvanized and painted for better corrosion resistance.

Stair treads can be made of any kind of steel grating. Can be divided into 4 basic groups:
T1 welding fixing, stair tread without front plate nosing.
T2 bolt fastening, stair tread without front plate nosing
T3 welding fixing, stair tread with front checkered plate nosing
T4 bolt fastening, stair tread with front checkered plate nosing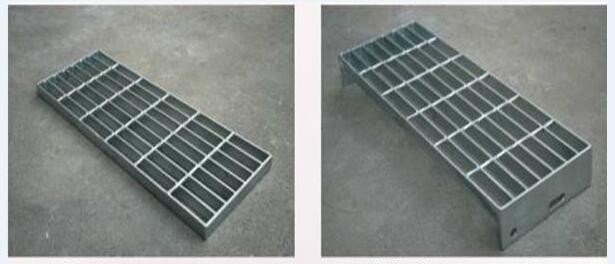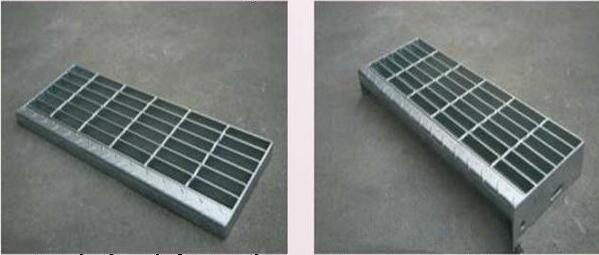 Material: Carbon Steel, Stainless Steel
Maximum Width: Dependant on the pattern and depth, there are recommended maximum widths for stair treads.
Nosing: Plain (no nosing),or with anti-slip nosing
Fixing: welded or bolted
Finish: mill finish
All stair treads can be custom fabricated to meet the size, width and length specifications of particular job. In addition, standard end plates can be custom fabricated to meet special bolt hole size or location requirements. Stair treads come in 2 types, smooth and serrated.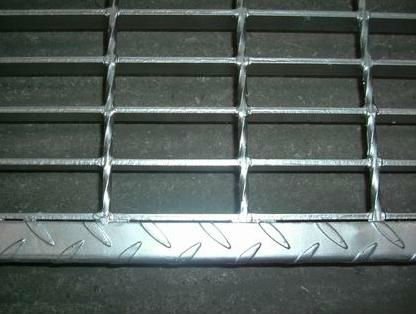 Smooth Serrated

Features of stair tread steel grating:
Easy to install and uninstall. It doesn't need any complicated skills. Welding and bolts connections types for choice.
Good ventilation of light, air and water. Large holes of stair treads make it easy for light and air ventilation.
Slip resistance. Serrated surface and nosing added can improve the slip resistance performance.
High strength and high load carrying capacity. Riveted steel grating stair treads supply high load carrying capacity.
Corrosion resistance. Aluminum steel grating and galvanized steel grating can ensure the outstanding corrosion resistance of stair treads.
Alkali and acid resistance. Stainless steel stair treads has excellent chemical stability for long service life.
Low maintenance cost. It is easy to clean the dust and dirt and cost less.
Good drainage. The large holes of stair treads make it easy to drain water and keep the stair treads dry.


Packed in bundle then fixed by steel belt as the general export package and we also pack it
according to customers' requirement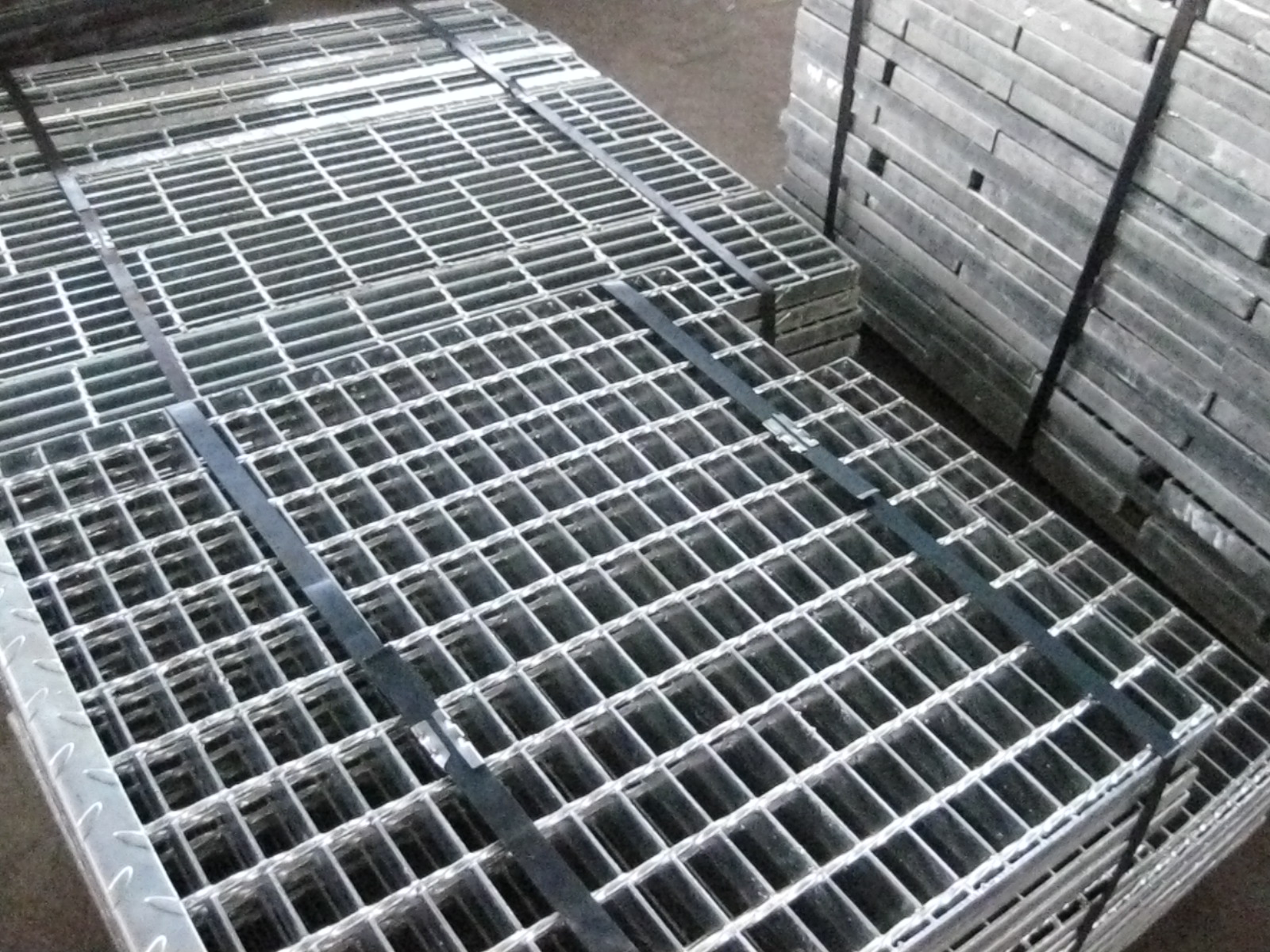 Applications of stair tread steel grating

The bolts and welding connection types makes stair tread steel grating be used in permanent or temporary applications.
Serrated surface improve the anti-slip performance, so it is ideal grating to be used in the wet, slipping areas.
Good drainage performance let the stair treads be available for outdoor stairs.
The stair treads can be used in the corrosive and harsh environments due to the good chemical stability characteristic of stair treads.